It is no surprise that I am a book lover and daily reader. I completed Erin's from TexErin-In-Sydneyland last challenge and she posted about her Facebook Group Challenge new list I knew I wanted to jump on board. I was able to use my Goodreads to-read list for most of the books so that made me happy, gives me an excuse to start tackling the 600+ books on my list. If you want to read the rules click here. There is still time to join in.
The challenge will run from January 1, 2016 to April 30, 2016. No books that are started before 12 a.m. on January 1 or finished after 11:59 p.m. on April 30 will count. These are the books I chose for each category. Each photo and book title will take you to the Goodreads info page, where the blurbs were captured.
– 5 points: Read a book, any book that is at least 200 pages long.
A Girl's Guide to Moving On: A Novel – Debbie Macomber
In this powerful and uplifting novel from #1 New York Times bestselling author Debbie Macomber, a mother and her daughter-in-law bravely leave their troubled marriages and face the challenge of starting over. Leaning on each other, Nichole and Leanne discover that their inner strength and capacity for love are greater than they ever imagined.

When Nichole discovers that her husband, Jake, has been unfaithful, the illusion of her perfect life is indelibly shattered. While juggling her young son, a new job, and volunteer work, Nichole meets Rocco, who is the opposite of Jake in nearly every way. Though blunt-spoken and rough around the edges, Rocco proves to be a dedicated father and thoughtful friend. But just as their relationship begins to blossom, Jake wagers everything on winning Nichole back—including their son Owen's happiness. Somehow, Nichole must find the courage to defy her fears and follow her heart, with far-reaching consequences for them all.

Leanne has quietly ignored her husband's cheating for decades, but is jolted into action by the echo of Nichole's all-too-familiar crisis. While volunteering as a teacher of English as a second language, Leanne meets Nikolai, a charming, talented baker from Ukraine. Resolved to avoid the heartache and complications of romantic entanglements, Leanne nonetheless finds it difficult to resist Nikolai's effusive overtures—until an unexpected tragedy tests the very fabric of her commitments.

An inspiring novel of friendship, reinvention, and hope, A Girl's Guide to Moving On affirms the ability of every woman to forge a new path, believe in love, and fearlessly find happiness.
*********************
– 10 points:Read a book that begins with the letter "D". (Yes, I put 25 letters in jar – I left out X – and drew randomly)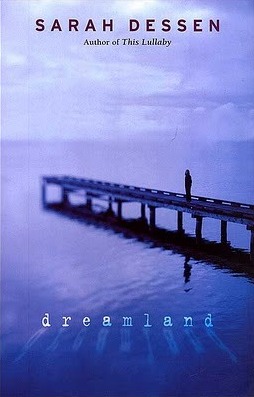 Dreamland – Sarah Dessen
Ever since she started going out with Rogerson Biscoe, Caitlin seems to have fallen into a semiconscious dreamland where nothing is quite real. Rogerson is different from anyone Caitlin has ever known. He's magnetic. He's compelling. He's dangerous. Being with him makes Caitlin forget about everything else–her missing sister, her withdrawn mother, her lackluster life. But what happens when being with Rogerson becomes a larger problem than being without him?
*********************
– 10 points:Read a book with a four word title.
Needs a Little TLC – Ines Saint
Real estate agent Cassidy Morgan specializes in historic homes, but her own history is something she likes to avoid. Back in Spinning Hills for the first time in ten years, she has a chance to put her small agency on the map as the premier realtor of restored houses. But it means a partnership with the one man she's never forgotten—and can't quite resist…
Sam Amador doesn't quit—and he doesn't run away from his problems, like a certain stubborn, extremely attractive real estate agent did all those years ago. Working with Cassie is a risk, but Sam knows his heart is more likely to suffer than his renovation business. How can he convince her that this time, Spinning Hills is where she belongs—and that his love has always been hers?
*********************
– 15 points:Read a book with one of the following words in the title: "mother(s)", "father(s)", "son(s)", "daughter(s)", or "child(ren)".
Not My Fathers Son – Alan Cumming
Dark, painful memories can be put away to be forgotten. Until one day they all flood back in horrible detail.
When television producers approached Alan Cumming to appear on a popular celebrity genealogy show, he hoped to solve the mystery of his maternal grandfather's disappearance that had long cast a shadow over his family. But this was not the only mystery laid before Alan.
Alan grew up in the grip of a man who held his family hostage, someone who meted out violence with a frightening ease, who waged a silent war with himself that sometimes spilled over onto everyone around him. That man was Alex Cumming, Alan's father, whom Alan had not seen or spoken to for more than a decade when he reconnected just before filming for Who Do You Think You Are? began. He had a secret he had to share, one that would shock his son to his very core and set into motion a journey that would change Alan's life forever.
With ribald humor, wit, and incredible insight, Alan seamlessly moves back and forth in time, integrating stories from his childhood in Scotland and his experiences today as the celebrated actor of film, television, and stage. At times suspenseful, at times deeply moving, but always incredibly brave and honest, Not My Father's Son is a powerful story of embracing the best aspects of the past and triumphantly pushing the darkness aside.
*********************
– 20 points:Amazon ranks their "most popular authors", and they update this list hourly. Based on when you make your book list, look at the top 100 authors, and pick a book to read from one of those authors, but here's the catch – it needs to be an author new to you…one of the most popular authors, yet you've never read them before. http://www.amazon.com/author-rank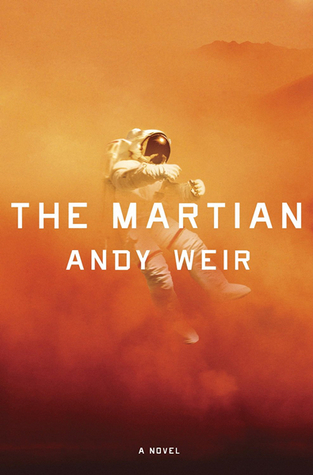 The Martian – Andy Weir
Six days ago, astronaut Mark Watney became one of the first people to walk on Mars. Now, he's sure he'll be the first person to die there.
After a dust storm nearly kills him and forces his crew to evacuate the planet while thinking him dead, Mark finds himself stranded on Mars' surface, completely alone, with no way to signal Earth that he's alive — and even if he could get word out, his supplies would be gone years before a rescue could arrive.
Chances are, though, he won't have time to starve to death. The damaged machinery, unforgiving environment or plain-old "human error" are much more likely to kill him first. But Mark's not ready to quit. Armed with nothing but his ingenuity and his engineering skills — and a gallows sense of humor that proves to be his greatest source of strength – he embarks on a dogged quest to stay alive, using his botany expertise to grow food and even hatching a mad plan to contact NASA back on Earth.
As he overcomes one seemingly insurmountable obstacle after the next, Mark begins to let himself believe he might make it off the planet alive – but Mars has plenty of surprises in store for him yet.
Grounded in real, present-day science from the first page to the last, yet propelled by a brilliantly ingenious plot that surprises the reader again and again, The Martian is a truly remarkable thriller: an impossible-to-put-down suspense novel that manages to read like a real-life survival tale.
*********************
-20 points:Read a book set in any country in Asia. (In previous challenges, we've been to Europe, Latin America, and a country you've never visited. Stick around, we'll tour the world!)
Snow Drops – A.D. Miller (Russia)
A.D. Miller's SNowdrops is a riveting psychological drama that unfolds over the course of one Moscow winter, as a thirty-something Englishman's moral compass is spun by the seductive opportunities revealed to him by a new Russia: a land of hedonism and desperation, corruption and kindness, magical dachas and debauched nightclubs; a place where secrets – and corpses- come to light only when the deep snows start to thaw…
A chilling story of love and moral freefall: of the corruption, by a corrupt society, of a corruptible man. It is taut, intense and has a momentum as irresistible to the reder as the moral danger that first enchants, then threatens to overwhelm, its narrator.
*********************
-25 points:Read a book with a "Season" in the title. (I start the challenge in Summer and end in Autumn; many of you start in Winter and end in Spring…so the title of your book should have Summer, Autumn/Fall, Winter, or Spring in the title.)
The Winter People – Jennifer McMahon
West Hall, Vermont, has always been a town of strange disappearances and old legends. The most mysterious is that of Sara Harrison Shea, who, in 1908, was found dead in the field behind her house just months after the tragic death of her daughter, Gertie. Now, in present day, nineteen-year-old Ruthie lives in Sara's farmhouse with her mother, Alice, and her younger sister, Fawn. Alice has always insisted that they live off the grid, a decision that suddenly proves perilous when Ruthie wakes up one morning to find that Alice has vanished without a trace. Searching for clues, she is startled to find a copy of Sara Harrison Shea's diary hidden beneath the floorboards of her mother's bedroom. As Ruthie gets sucked deeper into the mystery of Sara's fate, she discovers that she's not the only person who's desperately looking for someone that they've lost. But she may be the only one who can stop history from repeating itself.
*********************
– 30 points:Read a book that will make you laugh from the list attached. (submitted by Bernadette, previous winner) http://www.buzzfeed.com/erinchack/books-guaranteed-to-make-you-laugh-out-loud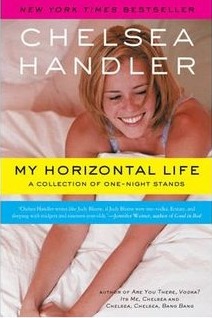 My Horizontal Life – Chelsea Handler
In this raucous collection of true-life stories, actress and comedian Chelsea Handler recounts her time spent in the social trenches with that wild, strange, irresistible, and often gratifying beast: the one-night stand.
You've either done it or know someone who has: the one-night stand, the familiar outcome of a night spent at a bar, sometimes the sole payoff for your friend's irritating wedding, or the only relief from a disastrous vacation. Often embarrassing and uncomfortable, occasionally outlandish, but most times just a necessary and irresistible evil, the one-night stand is a social rite as old as sex itself and as common as a bar stool.
Enter Chelsea Handler. Gorgeous, sharp, and anything but shy, Chelsea loves men and lots of them. My Horizontal Life chronicles her romp through the different bedrooms of a variety of suitors, a no-holds-barred account of what can happen between a man and a sometimes very intoxicated, outgoing woman during one night of passion. From her short fling with a Vegas stripper to her even shorter dalliance with a well-endowed little person, from her uncomfortable tryst with a cruise ship performer to her misguided rebound with a man who likes to play leather dress-up, Chelsea recalls the highs and lows of her one-night stands with hilarious honesty. Encouraged by her motley collection of friends (aka: her partners in crime) but challenged by her family members (who at times find themselves a surprise part of the encounter), Chelsea hits bottom and bounces back, unafraid to share the gritty details. My Horizontal Life is one guilty pleasure you won't be ashamed to talk about in the morning.
*********************
– 30 points:Read a book that is a friend or family member's favorite book (or the favorite book of another participant from this challenge). (submitted by Peggy, previous winner). This is one of Steph's favorites.
Shotgun Lovesongs – Nickolas Butler
Hank, Leland, Kip and Ronny were all born and raised in the same Wisconsin town — Little Wing — and are now coming into their own (or not) as husbands and fathers. One of them never left, still farming the family's land that's been tilled for generations. Others did leave, went farther afield to make good, with varying degrees of success; as a rock star, commodities trader, rodeo stud. And seamlessly woven into their patchwork is Beth, whose presence among them—both then and now—fuels the kind of passion one comes to expect of love songs and rivalries.
Now all four are home, in hopes of finding what could be real purchase in the world. The result is a shared memory only half-recreated, riddled with culture clashes between people who desperately wish to see themselves as the unified tribe they remember, but are confronted with how things have, in fact, changed.
There is conflict here between longtime buddies, between husbands and wives — told with writing that is, frankly, gut-wrenching, and even heartbreaking. But there is also hope, healing, and at times, even heroism. It is strong, American stuff, not at all afraid of showing that we can be good, too — not just fallible and compromising. Shotgun Lovesongs is a remarkable and uncompromising saga that explores the age-old question of whether or not you can ever truly come home again — and the kind of steely faith and love returning requires.
*********************
– 35 points: Read a book published the year you were born. (submitted by Meredith, previous winner)
Wifey – Judy Blume
With more than four million copies sold, Wifey is Judy Blume's hilarious, moving tale of a woman who trades in her conventional wifely duties for her wildest fantasies-and learns a lot about life along the way.Sandy Pressman is a nice suburban wife whose boredom is getting the best of her. She could be making friends at the club, like her husband keeps encouraging her to do.
Or working on her golf game.
Or getting her hair done.
But for some reason, these things don't interest her as much as the naked man on the motorcycle…
*********************
Have you participated in a Book Challenge before? Did you finish?
Any books above you have read or are interested in reading?