Happy Friday! I am excited for this weekend since I have no plans. I am hoping to get some spring cleaning done and some yard work but I also want to get caught up on some reading too. You know the usual.
I am hoping I can get a post up today. My internet was down for most of the night. I had to skip a few things due to time so don't mind if it is a little sparse today.
Favorite Movie: I am not sure why I remember this movie especially since I was so young when it came out but I watched it while typing up this post. Holy crazy bad acting, weird sound effects and BMX has come a long way since then but I think this is what really made me love accents as a kid. The Aussie accent especially. Besides this was Kidman's first movie, anyone else remember her with the crazy curls?

From iMDB: Two BMX expert bikers and a friend of theirs (Kidman) become entangled with a group of bank robbers after discovering a carton of walkie-talkies.
Favorite Song: I thought this went perfectly with yesterday's post and showing some soldier love. Soldier's of America by Madison Rising.
Favorite Book:
I read 2 books and this one was slightly better then the other since the ending on the other one was cute but I dislike when the timetable for romances are off. So this one edged it out for the favorite this week. It was light and fun, a quick read and as a bonus their is a recipe for the Bing Cherry Pie mentioned in the book that of course I will have to try out!
From Goodreads:
Montana real estate agent Quint McCoy will tell you that the most important thing is location, location, location. It's a lesson he learns all too well when he goes incommunicado for a four-week fishing trip to Alaska. While he's away, his mother Molly turns his office into the pie shop she has always dreamed of, Big Sky Pie. But that's not the only surprise in store for him.
On her way out of town, Callee McCoy only wants to say a fond farewell to her beloved mother-in-law. But Molly soon persuades Callee to stay and lend a hand at the new shop, even if it means heating up the kitchen with her soon-to-be ex. As Callee and Quint rediscover their recipe for love, they realize that some couples are so sinfully good together that one delectable taste is never enough . . .
Favorite Funnies:
Why is it when I finish getting ready I feel like this:
Then midway through the day I look like this:
So I have been waxing my own eyebrows since I was 12 years old. First with the microwavable wax and not with the salon version home kit. So I did mine the other day and I was looking in the mirror and I legit had this voice in my head. I know sometimes I crack myself up.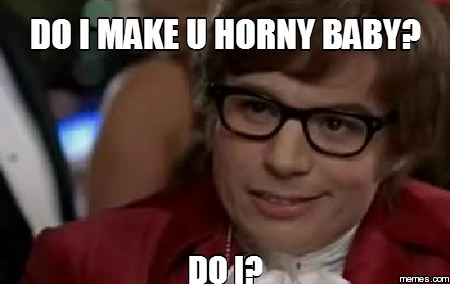 This week I have been getting to bed late (possibly reading) and getting up early (most definitely Seamus) which has made me extremely tired the last few days so this is how I feel.
Now excuse me while I get in touch with tech support to fix my internet.
Hope you have a great weekend!