I hesitate to even call this a "mini" makeover. Originally my plan was to move some furniture around, update the bedding to something lighter and add a bench. End over story! Well that is not how it went at all. I was able to reuse most of my decorations, and/or re-purpose some items from other rooms which really kept down the cost.
My vision for my bedroom was to keep the "earthy" feel to the room but just making it a little more tranquil and spa-like. What I wasn't planning on was my bed not really fitting on the spot and having to come up with different side tables. The good news though is that my nightstands will find a new home in my guest bedroom. I was also able to use the stones and shells that I collected on my Maine vacation.
BEFORE and IN PROCESS:
AFTER:
Reversible Comforter: Similar Here | Throw Blanket – Marshall's : Similar Here | Picture Frame Tray – Old: Similar Here | Believe in Yourself Pillow: Similar Here and Here | Wall Sconces – Old Partylite: Similar Here | Bench – Made it myself – DIY instructions here.
For the side table decorations I re-used items from around the house. The only thing purchased was the glass apothecary jar I got from Home Goods to add the stones and shells. I bought the lamps awhile ago at Home Goods and the thing I was looking for when I first bought them was neutral. I wanted a tan and brown color. I mixed and matched the lamp and the base. You can always paint anything you don't like if the base is say brass, just tape off and spray paint.
Rock and Shells from the beaches of Maine | Lantern – Old – Target: Similar
Here
or
Here
| Berries and Candle purchased from Michael's | Lamp – Old – Home Goods: Option 1
Here
– Option 2
Here
If you are not near a beach, don't worry Michael's and A.C. Moore usually have faux shells and beach decorations. You can even hang a book or extra blanket from the rungs if you wanted.
Some pillows I'd like to possibly add: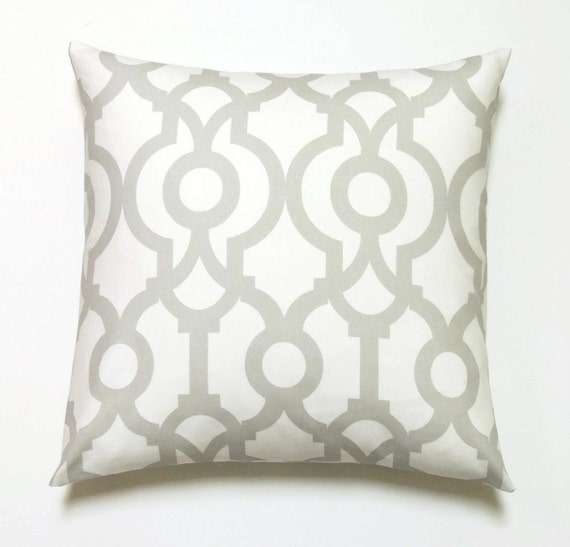 Now if you will bear with me a little longer I have a quick tutorial for you, for the side table since a few people asked about them. I originally wanted to use spindles in the middle and a circular top and base. I couldn't really find a wide enough spindle to get the effect I wanted so I started looking for a different base. I found these stools at T.X. Maxx and figured they would be the perfect base. I wasn't sold on the fact that they were rectangular on top but I kinda liked it as an added effect.
Supplies:
Stool ~ 18″ Round Base ~ 2-3 cans of White Spray Paint – Matte finish ~ Optional brown acrylic paint ~ Sand Paper ~ Drill ~ #220 Grit Sandpaper ~ Ruler ~ #12 x 1-1/2 in wood screws ~ Screwdriver
1. Measure the center of the stool and mark with a pen or marker
2. Drill a hole through the stool
3. Measure the center of the round top and mark the center with a pen or marker
4. Drill a starter hole in the center of the top. You just want to give the screw a head start not go through the top.
5. Screw the top to the stool.
6. Spray the whole surface
7. Once dry use the sand paper to scuff up some of the edges to give it the aged look.
8. OPTIONAL: Use the brown acrylic paint to add some lines to the top and sides. Use a paper towel or rag to smooth it out and fade it. Use the sand paper too if needed. Spray over any areas you don't like and start again.
Now I just have to add some artwork on the walls and the DIY lantern project I posted about here. I'll be sure to post some options so you can help me pick out which art pieces to choose later.