I am switching things up a bit for What I Ate Wednesday and sharing my recipe for the Crockpot Buffalo Chicken I made this weekend. I used this chicken three different ways so it really helped stretch my meal plan and grocery money.
Ingredients: 4 Chicken Breasts ~ 1 packet of Ranch Dip ~ 1/3 cup hot wing sauce ~ 2/3 cup water
Directions: Add all ingredients into the Crockpot and stir to combine. Cook on low for 2-4 hours or until the chicken begins to shred easily with a fork. Remove all chicken and shred. When ready to serve toss in a bit more of the hot wing sauce.
 Now to how I served it this week:
Option One: Served on a low carb Flax wrap, lettuce, tomato, Buffalo Chicken and topped with a bit of Ranch Dressing (Blue Cheese can be used).
Option Two: Salad with Romaine Lettuce, tomato, red onion, feta cheese, 1/2 a Pink Lady Apple, chopped Walnuts, and Buffalo Chicken.
Option Three: Buffalo Chicken placed on a bed of Riced Cauliflower. I had a small side salad also but not pictured.
What others ways would you use this chicken?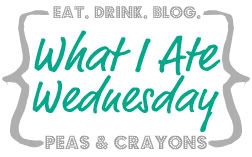 Also linking up with Liz from Fitness Blondie