I have been stuck on the couch the last two days with a cross between sinus issues and flu like symptoms, so here is some things to help you get current on what I've been up to. In all honesty too it requires the least amount of energy so I can get another nap in too. 😉
Currently…
Reading: Eeny Meeny – I received a free copy from NetGalley and I just started it but it is really good so far. Two people are kidnapped and the only way to make it out alive is to kill the other person. Detective Inspector Helen Grace is tasked with finding out who is playing this dark game.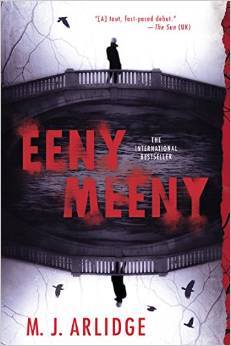 Thinking: Seamus is a stinking con artist. I had to take him to the vet on Monday after he had another accident in the house on Sunday and he had a skin issue near his eye, and he was barking when I pet him. The petting I wasn't worried about so much because he supposedly has arthritis but the newer issues combined made me worried. He was found to have Conjunctivitis, and they told me to go with the same flavor of dog food. Come to find out the petting thing is a behavior thing, he is trying to be dominate. So I worked on him for two nights and I actually got to pet him for 30 minutes without a growl. Progress!!
Wishing: For Sunday to get here, I am going to see Kevin Hart in Boston. So excited.
Watching: Bloodline on Netflix. It took me a bit to get into it but it's really good. Kyle Chandler aka Coach from FNL. Yes, please. Season 2 has been approved so more to come.
Wearing: A tank top and capri yoga pants, i.e. my pajamas.
Wanting: To get back out hiking. I really want to go at least 3-4 times a week, it's my favorite cardio workout.
Loving: Cuddle time with Seamus and being able to pet him again.
What are you doing currently?