Happy Friday!! It is extra happy since our office is closed due to snow. This means I get to lounge around in my PJ's all day and have a 3 day weekend. What's not to to be happy about? Hope the day goes quick for everyone so you can go enjoy the weekend!
1. Maybelline Fit Me Foundation – I originally learned of this product from Aubrey of The Kinch Life when she did a tutorial on contouring and highlighting. It is a really creamy texture and blends to a smooth finish!
2. It's a 10 miracle leave in treatment – This is a little on the pricey side as the smaller 4 oz bottle is $20 but it lasts longer that I would have thought. It works great as a leave in and also a heat protector.
3. NYC Trio Eye Shadow in Long Beach Sands – I receive this from Influenster in the Jolly VoxBox and I have worn it everyday since. I love the colors as it is pretty neutral so I can wear it to work. I can add a smoky gray or black to it to transition it to a night look easily. * I received this product complimentary from Influenster for review, but all opinions are my own and I am using daily.
4. Fitbit One – I got this for Christmas as a replacement for my Fitbit Ultra I bought last year. I was a little disappointed my Ultra only lasted a year after the case cracked but the One has a rubber case to protect it from sweat so I am hoping it lasts longer. I love that it syncs through Bluetooth/Wifi where my Ultra had to be plugged into my PC which meant I almost never sync'd it. I love being able to track my steps and set a daily goal so I know when I am slacking.
5. Mac Fix+ – This really is used as a finishing spray. I really like it in the winter because it gives my face a smooth finish and helps to hydrate my skin. I spray it onto a foundation brush and then apply to my face. It really smooths out your foundation in places where it may not have blended all the way and sets it in place so your foundation lasts longer.
What are some of your favorite things?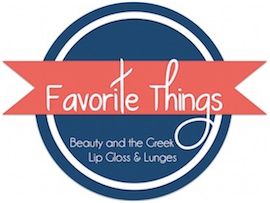 *****************************************
Don't forget to enter my 1 Year Blogiversary Giveaway!
a Rafflecopter giveaway