I don't know what I was thinking trying to take anything on Fitness or otherwise during the busiest time of year for my work. By the 10th I was over the month, and by the 17th I had the eye twitch I seem to get every year due to the stress. It is constant from the time I get in till I leave. I end up going home and crashing on the couch. It wasn't a total fail but it was not nearly what I was hoping for either.
Linking up with Steph from Life According to Steph and Steph from Not Entirely Perfect to share my results. For more information on the challenge click here.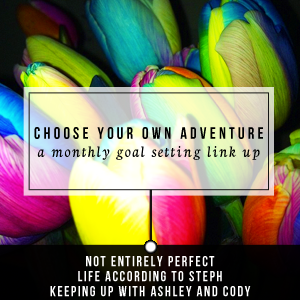 My Goals:
Walk up to 70,000 steps per week – FAIL – In order to meet this I needed to work out 6 days a week. Too many nights just physically exhausted. Didn't happen. According to my fitbit the highest I got was 55910 steps.
Go to the gym 4x per week – PASS – Although I did 4 days a week it was just so inconsistent, like Monday Friday Saturday Sunday. I would have liked more like every other day but it is what it is.
Weight training at least 3x per week – PASS – This one was kinda a gimme since if I go to the gym I do weights and then cardio. I like lifting more than I like cardio. I'd go to the gym just to lift to be honest. So it was added to be the easy one for me so I didn't want to feel defeated if I failed at the others.
Getting back into a more consistent routine is going to be a priority next month since I will have much more energy and less stress. The theme for October is food so that will be a fun one.
I am also doing a wallet watch for October. It is a choose your goal time of "spending freeze" so you can set your own limits.
My Goals:
Save $300.00 to be added to saving to be used towards Christmas. I only use cash for Christmas so time to save.
Stay with budget for my grocery bill – recipe testing kills my budget every month so I want to work on this one.
No spending on clothes, makeup or accessories.
I am still going to work on a few house projects so I decided not to do a total spending freeze.