Well I am going to try and keep this short and sweet since most of my plans for this weekend were drastically changed due to an emergency.  You see my toilet flooded but it didn't just flood through the toilet. Nope that would be too easy.
You see it flooded down through the wall into my basement. It even "crawled" part way through the wall and into the light in my basement. It ended up filling half a bucket with water. Fun times I tell ya. I had to call multiple plumbers because Emergency Plumbers really means, we are too busy for your emergency. My shutoff valve was stuck and wouldn't shut off. The main shutoff is in the unit next door and the tenant wasn't home. It eventually got done but not until I called the cops. Fun times I tell ya. Anyoo, on to the weekend.
1. Snuggling with Seamus while watching The Man of Steel (Holy Abs)  2. My attempt to get through my pile of magazines. 3. What happened at 9am and didn't end till 4:30 pm. Yup my leaky toilet (to be continued on Monday) 4. Finally relaxing with an Angry Orchard Cider 5. Amazing breakfast on Saturday Morning 6. I was stuck in the shopping plaza for a few hours while my remote car starter was being installed. Luckily they had a TGIFridays where I had lunch. Then I went to the Starbucks and Barnes and Noble for the free Wifi 7.  While I was there I did a Random Act of Kindness (sneak peak).
It is also the time to linkup with Beauty and the Greek and Lip Gloss and Lunges for the monthly favorite things. So these are a few of my favorites lately.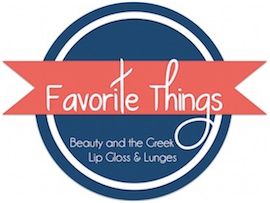 The Following – I am so excited this show is back! I am loving it and Joe Carroll is alive!
Angry Orchard Green Apple – I love this cider, pretty much all the flavors are good but love the green apple.
H&M Smokey Eyeshadow – Perfect browns and great range of dark to light, matte to shimmer. For under $6 you can't go wrong.
Starbucks Mug I don't like the coffee so I used a gift card for a new mug.
Healthy Sexy Hair – I got this in my January Ipsy Bag and I am loving it! Even more so than the It's a 10 product and it is cheaper too.
Well that is it for me. I think I am coming down with a cold so I am going to go rest. Happy Monday.
Also linking up with Leeann from Join the Gossip for Monday morning gossip.