Every book I read leads to the opportunity to open my head and mind. Open itself to possibilities, the emotions of others and to what lies within myself. While I tend to review books during my once a month recap with Steph and Jana I felt that Wild by Cheryl Strayed deserved a separate post because of what it brought out of me. Much like Lance Armstrong's book It's Not About The Bike led me to triathlons, I think this book is leading me to more long distance hiking.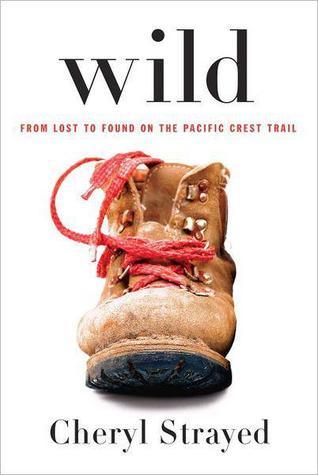 Goodreads: At twenty-two, Cheryl Strayed thought she had lost everything. In the wake of her mother's death, her family scattered and her own marriage was soon destroyed. Four years later, with nothing more to lose, she made the most impulsive decision of her life. With no experience or training, driven only by blind will, she would hike more than a thousand miles of the Pacific Crest Trail from the Mojave Desert through California and Oregon to Washington State — and she would do it alone.
Told with suspense and style, sparkling with warmth and humor, Wildpowerfully captures the terrors and pleasures of one young woman forging ahead against all odds on a journey that maddened, strengthened, and ultimately healed her.
In the book Cheryl discusses her journey of being lost and then found on the Pacific Crest Trails also known as the PCT. Just four years after her mother's lost battle with cancer and her short lived romance with a man named Joe, a heroin addict. Cheryl herself admits to doing heroin with him and feeling out of control. She admits to being promiscuous in order to not have to feel. With all this being said she is human, she is flawed and she sets out on the trail in order to find herself again, heal, and grieve her mother.
While I wasn't impressed with the writing at times, I was expecting a little more storytelling and maybe a little more soul searching but I was deeply impressed with the trek and journey itself. To hike over 1100 miles over the course of 3 months, losing 6 toenails and carrying a backpack she could barely get an inch off the ground. The skin on her hips and shoulders being rubbed raw from the pack, not being able to shower for days on end, encountering all sorts of wildlife including rattlesnakes, and mountain lions is impressive.
I like that she pushed through and persevered, when some of the men cut the trip short. She could have easily have done the same but she pushed forward. She described a hole in her heart that was left from her mother's death and that feeling is something I can relate to.
Without going into details I have felt similar in the past, maybe because of my childhood or things that happened to me outside of my control that left me feeling lost. I like the idea of challenging myself to push deep and overcome. I am challenging myself to hike as many of the 50 over 4k mountains of New Hampshire since I can't take 3 months off from work. These are a little more manageable, and I can tackle them on the weekend. Roughly they would take about 4-6 hours each, depending on my speed.
So like I said, books have a way of speaking to you, at where you are in your life. It may not speak to you in the same way but I am an outdoors person and I love a story of perseverance. So in that way I connected with the journey, and that is why I will always be a reader.
Have you read any books that have inspired or affected you?