Happy Hump Day. The fabulous Em from
My Favorite Day
tagged me in this post that has been circling youtube and since there are a few new faces I figured this was a great way to learn a little bit more about me. Plus who doesn't love random facts.
1: What are you wearing?
I am wearing a maxi dress that I got from Target. I love it! Get it
here
.
2: Ever been in love?
Yes but not currently. 😉
3: Ever had a terrible breakup?
Yes, more than I would care for. Why do guys try and argue with you when you break up with them? That is not going to make me change my mind, only solidify it.
4: How tall are you?
I am 5'6″ but always wished I was taller, oh well.
5: How much do you weigh?
Don't they know it's rude to ask a woman this question?
6: Any tattoos?
Nope. Not a fan of pain and too indecisive.
7: Any piercings?
I have 7 in my ears though I don't wear earrings most days. I had my tongue pierced when I was younger.
8: OTP?
Is this supposed to be one true pairing? If so peanut butter and jelly?
9: Favorite show?
The Following
10: Favorite bands?
Recently – Devour the Day, Asking Alexandria, Breaking Benjamin, Citizen Cope, In This Moment (Rocker at Heart)
11: Something you miss?
Having the Summer's off. Oh to be in college again.
12: Favorite song?
So many to count but Are We Really Through by Ray LaMontagne – though love anything by him.
13: How old are you?
35 – yup i'm old-er.
14: Zodiac sign?
Virgo – Fit it to a T with a little Leo mixed in.
15: Quality you look for in a partner?
I love a guy who is active but can chill on the couch too. Someone who doesn't take themselves too seriously and isn't materialistic. Is always seeking to learn new things, can make me laugh, and judge me. Someone who will call me on my bullshit but never in a rude way. Physically I love a tall guy with broad shoulders. A rugged outdoorsy guy gets me every time. Picky much?! Haha.
16: Favorite Quote?
"To the world you may be just one person, but to one person you may be the world." – Brandi Snyder
17: Favorite actor?
For style and skill – Giovanni Ribisi. He just transforms so much for each role.
Hotness factor – Ryan Reynolds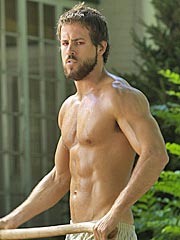 18: Favorite color?
Yellow, Yellow and Yellow
19: Loud music or soft?
Loud for working out, soft for stressful days
20: Where do you go when you're sad?
Home or Hiking. I feel the most calm in nature and the silence gives me space to think, plus a workout.
21: How long does it take you to shower?
No more than 10 minutes and that is only if I am shaving.
22: How long does it take you to get ready in the morning?
Seamus always wakes me up earlier than I would ever want so I am usually up for 1:30 to 2 hours before I leave for work but only 30-45 minutes to get ready including making my lunch, showering, hair and makeup. I usually read too to help wake-up.
23: Ever been in a physical fight?
Yes, I was a scrappy kid when I was younger especially after my parents divorced. I was usually defending myself or someone else though.
24: Turn on?
Jeans and a plain tee with work boots is pretty hot but its all about attitude.
25: Turn off?
Smoking, selfish, or rude to others.
Any that surprised you to learn?
Since these are possibly things you don't know about me I am considering them confessions because I want to linkup with one of my bloggy besties Kathy from
Vodka and Soda
for Humpday Confessions and with Liz from
Fitness Blondie
for the Hump Day Blog Hop.