So it begins, the countdown to Christmas. I only have one more working day and then I am on a 9 day vacation. I am looking forward to doing nothing but reading, watching TV, and maybe cleaning up my emails. I am trying out a new format this week so I would love to hear your feedback on how you like it in the comments.
I was really bad and didn't take pictures but I went down to my hometown to celebrate my best friends Mom's birthday. I ended up at the bottom of their driveway in my pajamas (they lived one house down from our house) when I was two and they made me an honorary member of their family ever since. She is my second Mom, she has lead by example and in turn made me a better person. Their Dad (Pop T) also helped me fix my Dad's storm door that was broken.



I scored these awesome deer statues from Walgreens, to continue my deer theme for Christmas they were 60% off too. I got my cute deer pillow cover that I got from Jane. While headed back from the birthday party, I stopped at Michael's and I saw this really cute magnetic bumper sticker. Of course I had to get it.
I worked on a DIY project which is actually a Christmas gift so I can't share much but I promise to after the holiday. So here is just a sneak peak.

Seamus was such a snuggly pup this weekend. He really just wanted to be near me, on me, or my blanket. When he looks at me with that face how can I resist? I can't!!
How was your weekend?
Linking up with Leeann from Join the Gossip and Biana from B Loved Boston.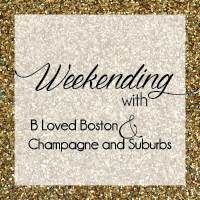 gn: center;">