I may have just returned home from my road trip to North Carolina (my trip recap can be found here and here) but that doesn't mean I am going to sit at home this weekend. Due to my poor planning awesomeness I am going on the annual girls weekend with my bestest friends! In my defense I thought I was going to spend Monday and Tuesday at home doing projects around my house so it would have been a great weekend to get away. Either way I am excited to go. Every year in place of Christmas and birthday gifts us girls go away for a night and just spend time together. We try and pick a location in New England that is close enough so we don't spend the whole time driving but far enough that we get to explore a new city. This year we picked Providence for WaterFire. So check back in on Monday for all the trip details. Since it is Friday I am going to share my favorite things.
Favorite Song: You know my love of rock so this one should be no surprise. Love this band and i can't find this song on iTunes! Wahhh!! So I will settle for adding it here. UPDATE: You can get it on Amazon! Heck yeah, adding it to my running playlist!
I can see the shame in your eyes (In my mind)
I can feel the rain from the sky (Letting go)
I can hear you inside your mind (In my mind)
Where the pain begins
Can't explain away what seems to fail
Reaching out to pull away, with every tear still falling
Running just to crawl
Had enough, stop now, had enough, had enough now
Just don't go
Had enough, to have enough
Favorite Recipe: After last weekend and this weekend delicious but less than healthy food, this coming week is going to be filled with veggies and lean proteins so I can get back on track. Asparagus is my second third favorite green veggie. Right behind Romaine lettuce, and broccoli. These asparagus fries with Lemon Herb Aioli will be on the menu.
Favorite Moment: Getting to spend time with not one but two blogger buds. Maddie of course who hosted me in North Carolina but also Steph from Life According to Steph. She was on her way from Pennsylvania to a wedding in Mass and since my work is right off the highway she stopped by for a quick meet. Next time we need to do dinner! The thing I love about both girls is they are real, relate-able and down to earth, basically the kind of people I would choose for friends if they lived next door.
Favorite Funnies:
After missing Seamus for four days I felt he looked at me with the saddest eyes when I had to go back to work. He was probably thinking this:
Poor Maddie and Tony were subjected to a lot of That's What She Said coming from my mouth this past weekend, but seriously don't leave the door open for it. 😉
Every day at work I have to wear a cardigan thanks to the AC being on full blast.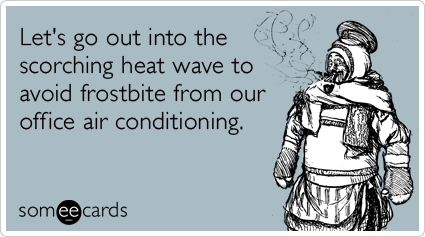 Is it time for girls weekend yet? Let the countdown begin!
What are your plans for the weekend?
Linking up with Amanda
I am also linking up with Tori over at Cupcakes and Crossbones
You can follow me via Bloglovin, Twitter, Intagram, Facebook or Pinterest